Our Commitment
We take a long-term view of our responsibility, and this is reflected in the policies that guide our business decisions, and a corporate culture which fosters safe and ethical behavior across all levels of the company.Our goal is to ensure that our engagement with our stakeholders - including our workforce, industry
partners, and the communities where we operate — is mutually beneficial, transparent, and ongoing. SSR Mining's corporate responsibility program is driven by proactive initiatives and supported by monitoring systems that help us to evaluate and continually improve our engagement practices.
Safe for Life
We value above all else the safety and health of our employees, their families, and all those affected by our business activities. We acknowledge that there are risks associated with our business and, through proactive risk management, continuously minimize and control these risks.
SSR Mining's Safety Vision is "safe for life". Our safety program emphasizes balancing the human and technical aspects of safety: blending leadership behaviors with traditional management activities to create a safe productive culture. Positive reinforcement and open, honest communication builds trust. We ensure that our workers understand their individual contributions to safe production. In this positive environment they maintain safety awareness, recognizing hazards and analyzing risk in their daily activities. Each employee has established commitments related to their personal and work safety and health behaviors. Each employee is empowered to take the necessary actions to minimize risks.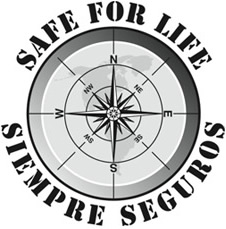 The technical aspects of safety are addressed by identifying critical tasks, establishing policies and procedures and providing appropriate training. Performance measurement and accountability provides feedback and maintains focus on continuous improvement.
Our ultimate goal is to achieve "safe for life" and deliver safe production every day.
Strategic Safety Leadership
Our management team establishes a culture of safety through education and motivation. The emphasis is on training and continuously rewarding positive behaviors – championing safety as a core value.
Awareness of Our Risks
Our risk management is proactive. Both dynamic as well as systematic, safety reporting is focused on current and leading indicators, not lagging indicators such as injuries. With this approach we can better anticipate and assess risks, and work to control them.
Focus on Our People
Our risk management system addresses how people perceive risk, so that our protocols and monitoring processes can be more effectively aligned to our activities. We strive to improve the competency of our people to identify, understand and manage risk.
Emphasis on Balance
We encourage our people to ask "What if….?" to ensure that risks are identified and discussed, and we empower them to take individual responsibility and accept accountability for safety every day. Safety is an integral part of our business activities.
PROTECTIVE DEVICES AND GUARDING
Make sure protective devices are in place and used. Never modify, bypass or remove a protective device.
DRIVING
Prepare by checking your mobile equipment. Everyone wears a seatbelt. Obey all signs and follow the rules of the road. Drive appropriately for conditions.
GROUND STABILITY
Scan continuously for signs of ground instability. Correct conditions or leave the area. Restrict access and report the situation.
ENERGY ISOLATION
Identify and control all sources of energy. Confirm energy isolation before working on equipment or systems.
WORKING AT HEIGHTS
Protect yourself and others against falls. Make sure fall protection equipment is in good condition and is in place. Wear fall protection where there is a danger of falling.
HAZARDOUS SUBSTANCES
Protect yourself and others against hazardous substances in the workplace. Only handle chemicals if you have been trained, understand the hazards and use appropriate controls.
LIFTING, RIGGING & HOISTING
Restrict access to the drop zone. Never position yourself under a suspended load.
PERMIT TO WORK
Obtain required permits prior to performing work.
FIT FOR WORK
Report to work physically and mentally prepared to perform work safely.
PERSONAL PROTECTIVE EQUIPMENT (PPE)
Select the appropriate PPE for the hazard present. Wear and care for required PPE.
Committed to delivering
safe production
SSR Mining Sustainability Reports
Alacer Gold Sustainability Reports